3 Dried Herbs For Seasoning Your Food Like a Pro
To all the Avid Foodies out there, do you need some artfully styled food to be staged in order to get applauded for its appetising nature, aroma, colour and taste? Will you trust if I say that few "Super 9" loaded in the Glass Jar can bring one turning point to the dish? Yes, they can overwhelm a dish and transform one Commis Chef into a great Chef. Is that a Spice-box? No, not exactly! Then what?
Super 9 is simply a 9 lettered word starting with S. Guess what? Yes, it's the Seasoning! In a foodie language, they can be any sprinkling of the Herbs / Spices / Salt / Sugar over the dish. Well, seasoning can flavour the dish either in the beginning or at the end of cooking. The Seasoning can serve the taste buds with spicy, tangy, sweet, sour, bitter tastes. The name Seasoning also means that they are affordable and available in all seasons at a comparatively cheaper price.
The Right Season has arrived to Taste:
Winter has come! But that's not the Season I am going to talk about here rather about the naturally fresh herbs that are updated into the dried herbs version to retain the flavour. Dried herbs don't compromise in the properties of fresh herbs. Refrigerate the dried herbs to be shelf-stable. It's light and portable as well.
What exactly are dried herbs? Why me?
Dried Herbs are the dried leaf or stem part of the green plants that provide the long-lasting strong flavour than the fresh ones. The dried herbs version has aromatic and antioxidant properties with high concentrated flavour without any fades. Want an instant zing? Then stock up your kitchen with the dried herbs. It improves the appetite and appearance of the food.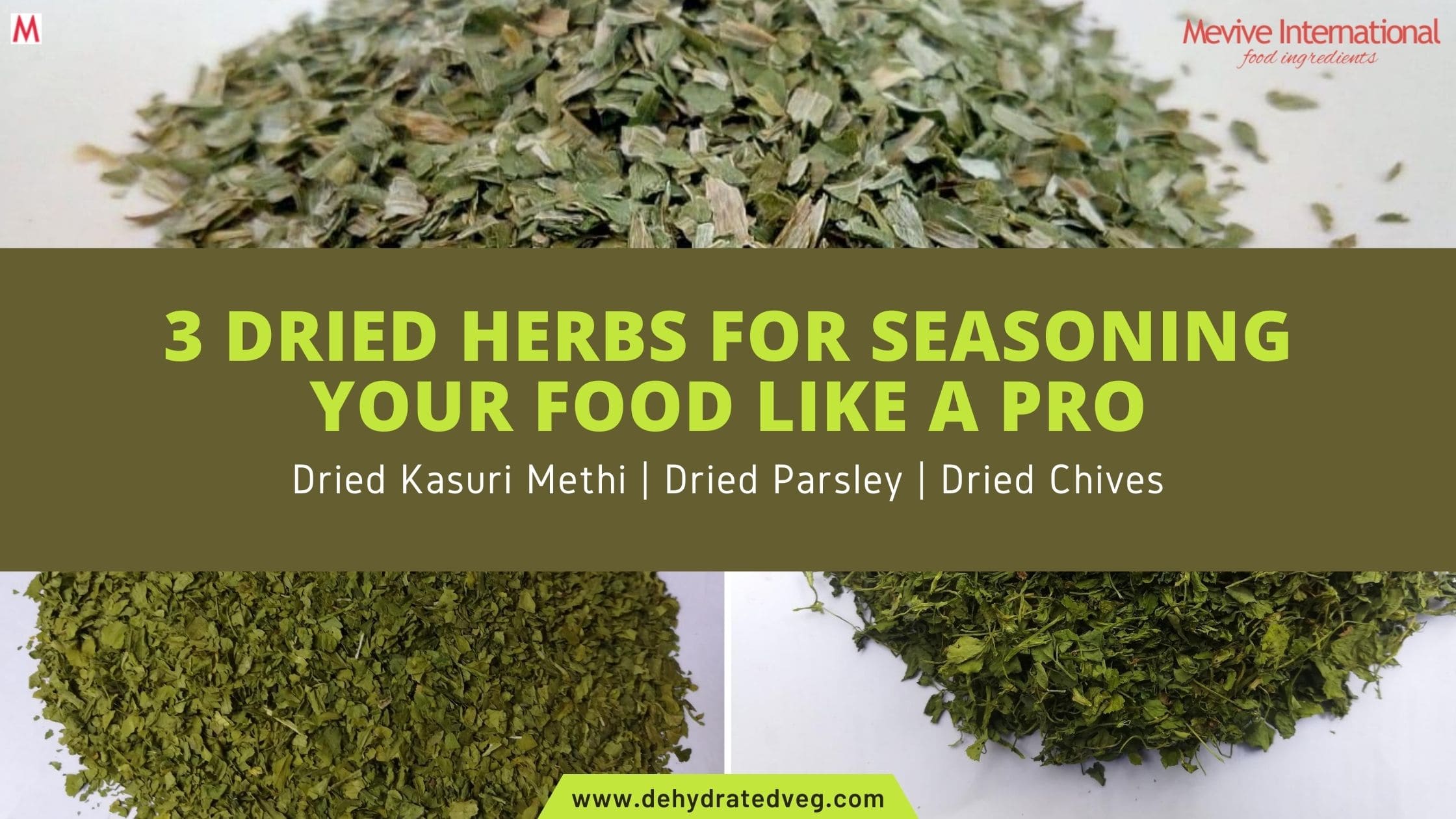 The Artistic Algorithm:
We foodies can completely agree that even sprinkling the dried herbs in slow motion is an art. But, how and when to do it? When the dish is on low flame and nearing the climax, the dried herbs enter. They can be used for raw, partially / semi-cooked food. Let me whisper a secret, "Dried Herbs really goes good when mingled with water or oil". The dried herb in small amounts can bring huge differences in any dish.
What's cooking here?
Well, cooking is happening but how? Let me unveil the 3 greenish dried herbs I am going to describe. They are the curry specialist dried Kasuri Methi , the garnishing queen dried chives and finally the multipurpose dried parsley.
Kasuri Methi basically denotes the dried fenugreek leaf that fascinates the taste buds with bitter yet addictive taste. It smells pungent, looks green, earthy and crispy. Dried methi leaf enhances the flavour of instant/ readymade parathas, papad and roti. It highlights when seasoned over yam, butter chicken, especially vegetarian and non-vegetarian curries.
Dried Chives are green coloured with onion flavour. Need one perfect flaky and a tender biscuit? Pick up the dried chives. Garnish or Dress up the potatoes, dips, soups, sauces, bread spread, stew, egg varieties, fish using dried chives. They have two faces: flakes and powder.
Dried Parsley leaves usually bring the vegetable flavour with the green colour. Beat the dried parsley leaves with eggs or butter to know it's worth. It goes well when seasoned over the creamy dips, steamed fish, grilled chicken, pasta. No wonder people call parsley a multipurpose herb. One small line separates the dried parsley being a flake or powder.
there's New Way to connect with, Save our Whatsapp Number +91 7540073991 for Sales Assistance. Easy to Connect. Quick Response
Herbalism Map:
So, let me fill up the knowledge thirst of you all with some medicinal benefits of the dried herbs. Do you need to control and maintain diabetes? Want a protein supplement? Then reach out the dried kasuri methi that controls cholesterol, heart diseases and even sugar level in a few cases. Insomnia is one common disorder found in people. Know what? Dry chives can improve the sleeping habits and bone health of a person due to the presence of Choline, a nutrient compound. It can boost memory, mood and muscle strength. Building a healthy and strong bone is a mission. So how to maintain our bones? Pack up your bones with Vitamin K in dried parsley flakes. It also reduces the risk of bone fracture.
The Dried Herbs Triad:
Think about having all the three benefits together in a single plate. So, what can be made out of these three? Have you all heard of herbed garlic bread? It's an Italian bread seasoned with dried chives, dried parsley and dried kasuri methi. Hey parents! Want your children to grow healthy in this polluted world? Then try out the instant multigrain paratha/chapati, soup mix, curry mix available readymade.
The fried rice, noodles and pasta can be topped using this triad. Being health-conscious, the health mix, masala mix, creamy dips/mayonnaise, sauces use this triad. Why as a seasoning and not as a complete food? Because, it's easy to cook, garnish and consume in dried form rather than chew the bitter flavoured ingredients.
Are you ready to store for healthy eating?
Okay! Let me try out the green leaf triad, but how? The quality, quantity, taste, aroma everything matters right. Then how to choose? Reach us out for the healthy bulks of manufactured dried herbs that last for one year.
Get instant assistance from our sales team for a bulk supply of Dried Herbs- Flakes & powder. Connect with us at sales@meviveinternational.com or post requirements at our website. Chat support: +91 7540073991