Dehydrated Beetroot Flakes supplier in india
The lovely red-magenta coloured Dehydrated Beetroot Flakes is a commonly used natural condiment in the kitchen rack. Prepared from pure and fresh beetroots, Dehydrated Beetroot Flakes have an excellent flavour and rich taste similar to that of the real ones. They let out distinct and strong earthly fragrance that acts as a great seasoning ingredient for preparing mouth-watering culinary delicacies.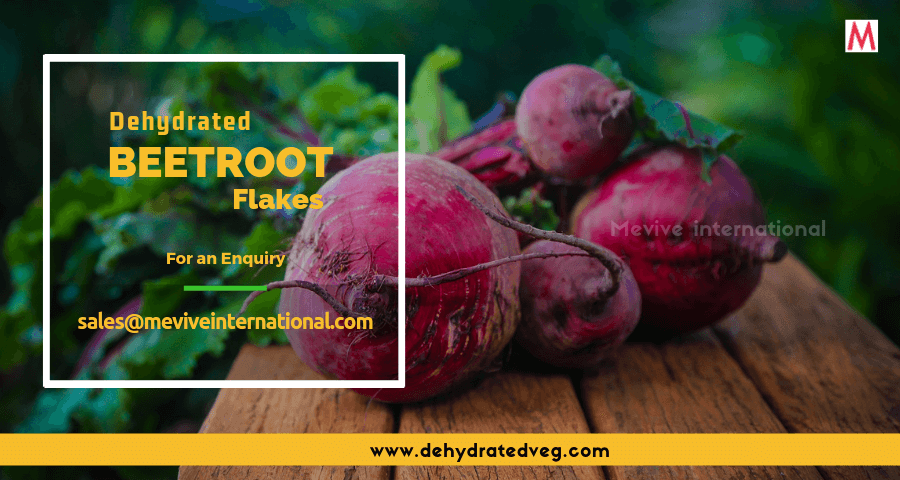 The beetroot flakes are popularly used as a natural sweetener while adding the benefits of the high nutritious qualities of the red roots. Other than as a food, Dehydrated Beetroot Flakes have use in homemade natural cosmetics and as a medicinal plant.
The beetroots are peeled and sliced in a mandolin slicer. The thin slices are spread out on baking trays as a single layer and placed in to a pre-heated oven set at the lowest heat. The water content in the beetroot totally evaporates in the mild heat and we will be getting crispy Dehydrated Beetroot Flakes.
Health Benefit of Dehydrated Beetroot Flakes:
Improved Heart Health
Bone Strength improvement
Antioxidants
Ease The Digestive Process
Detoxify The Body
Boost Immunity
Boost Vision
Enhance Sleep And Mood
Boost Skin Health
Might Improve Hair Health
Mevive International is one of best suppliers of dehydrated Beetroot Flakes in india
The Dehydrated Beetroot Flakes are used in the preparations of dry soup mixes, sauces, rice blends, vegetable mixes, stuffing mixes, instant mixes, processed food, frozen and canned food, health food and also snacks and fast food. They are generally added as a whole to soups, salads and stews, yoghurts, salsas etc.
They enhance the taste of curries and gravy dishes and are sprinkled on smoothies, pastas and other mixtures. Dehydrated Beetroot Flakes can be fried as well to be made in to chips and pulverised to be added on to cakes and muffins.
We are one of the renowned and well-established supplier and distributor of a wide assortment of the finest grade of Dehydrated Beetroot Flakes. The offered products are hygienically processed using premium quality ingredients at our well facilitated unit using advanced technology as per international standards.Tested and proven on various predefined quality parameters, our Dehydrated Beetroot Flakes are widely acclaimed among our clients for its rich taste, purity and freshness that ensure a long-shelf life. They are available in various packaging options at competitive prices in the market.
For More about our product Visit: www.dehydratedveg.com
If your want known price and sample means mail at sales@meviveinternational.com
You may also like