Dehydrated Beetroot powder supplier in india
Dehydrated Beetroot Powder is one of the most versatile vegetable powders, commonly used as a natural colour additive in the food industry. The lovely red-magenta colour and sweet-tart taste of Dehydrated Beetroot Powder adds a strong fragrance and distinct earthy sweetness to foods and beverages. Being an extremely healthy root vegetable, Dehydrated Beetroot Powder provides a wide range of nutrients. As it is very high in natural sugar content, it is becoming popular as a sweetening substitute.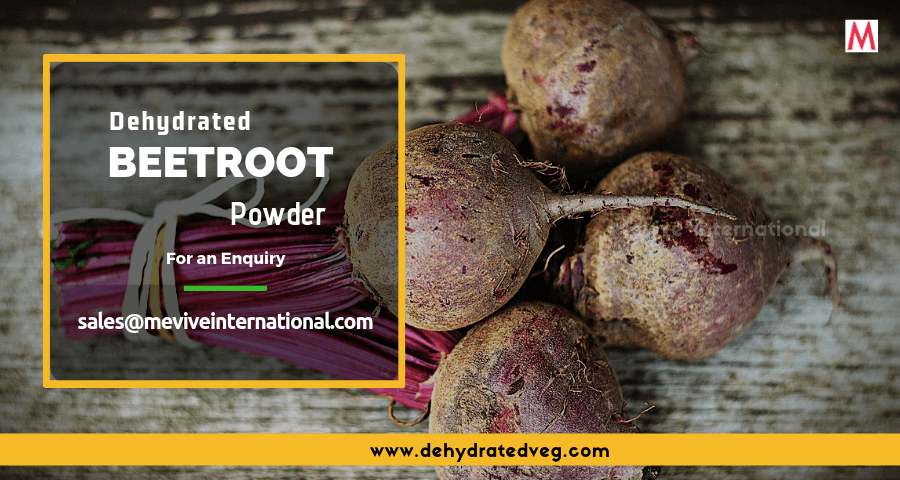 The beetroots are peeled and sliced in a mandolin slicer. The thin slices are spread out on baking trays as a single layer and placed in to an oven set at the lowest heat. The water content in the beetroot is totally evaporated in the mild heat and we will be getting crispy beet flakes. These flakes are then ground to a fine powder.
Dehydrated Beetroot Powder is a natural food colourant and used as dry coating ingredient of many edibles and snacks. It is generally added on to culinary delicacies like Soups, Sauces, Marinades, Parantha mixes, Tortillas, Pancakes, Pasta dough and Salad dressings or even Beverages for a bright red velvet colour. It is used in curries and gravy for extra nutrition without altering the taste of your recipe..
Health Benefit of Dehydrated Beetroot powder:
Improved Heart Health
Bone Strength improvement
Antioxidants
Ease The Digestive Process
Detoxify The Body
Boost Immunity
Boost Vision
Enhance Sleep And Mood
Boost Skin Health
Might Improve Hair Health
Mevive International is one of best suppliers of dehydrated Beetroot powder in india
Dehydrated beetroot powder is whipped into yogurt, smoothies, protein shakes and raw juices and also in tint-frosting of homemade candies, cupcakes and cakes, muffins or cookies. Apart from these, Dehydrated Beetroot Powder also serves its purpose in natural cosmetics such as blushers and lip balms.
We are one of the leading and renowned organisations actively engaged as suppliers and Distributors of Dehydrated Beetroot Powder of the finest quality. Our range of Dehydrated Beetroot Powder provided is of high quality dehydrated products as per the global set norms. Sourced only from small organic farms, the beets are hand-picked at peak ripeness and dried at low temperatures in order to preserve their freshness and nutritional value too. Facilitated with our state-of-the- art factories, the products are tested on various critical parameters by our expert team of quality controllers who ensure that only pure and effective product range is delivered to our esteemed clientele. Packed hygienically in tamper proof packs, they are made available at nominal prices in the market.
For More about our product Visit: www.dehydratedveg.com
If your want known price and sample means mail at sales@meviveinternational.com