Dehydrated Carrot Flakes- Application, Health Benefits, Storage Tips
A cool seasoned vegetables, carrots are most versatile for their fleshy edible roots. So, carrots are central to so many recipes and an essential kitchen item. Bright orange carrots not only add colour and yummy taste to soups and stews, but also give them rich texture that is sure to entice taste buds. Dehydrated Carrots are a great source of essential vitamins and minerals. Raw or cooked, crunchy or softened, they find wide application in day to day use for making carrot juice, carrot powder, terminated carrot sweetmeats, soups, stews carrot flakes etc. It is a perfect snack while camping or for long term food storage and emergency preparedness.
Premium quality Dehydrated carrot flakes and powder are natural and organic, being totally free from pesticides or preservatives. So, you can vouch for their quality. As real carrots often lose their freshness and lie unused in the refrigerator, now you can switch over to dried and diced carrots. You can always experience the convenience of having the real fresh flavour of luscious juicy carrots at your fingertips, anytime and anywhere. There will no longer be any necessity of continuous chopping to prepare that yum soup. That will save on your time and effort too. And, the bright orange colour of these dried carrot flakes is not only appealing to the eye, but good for them too.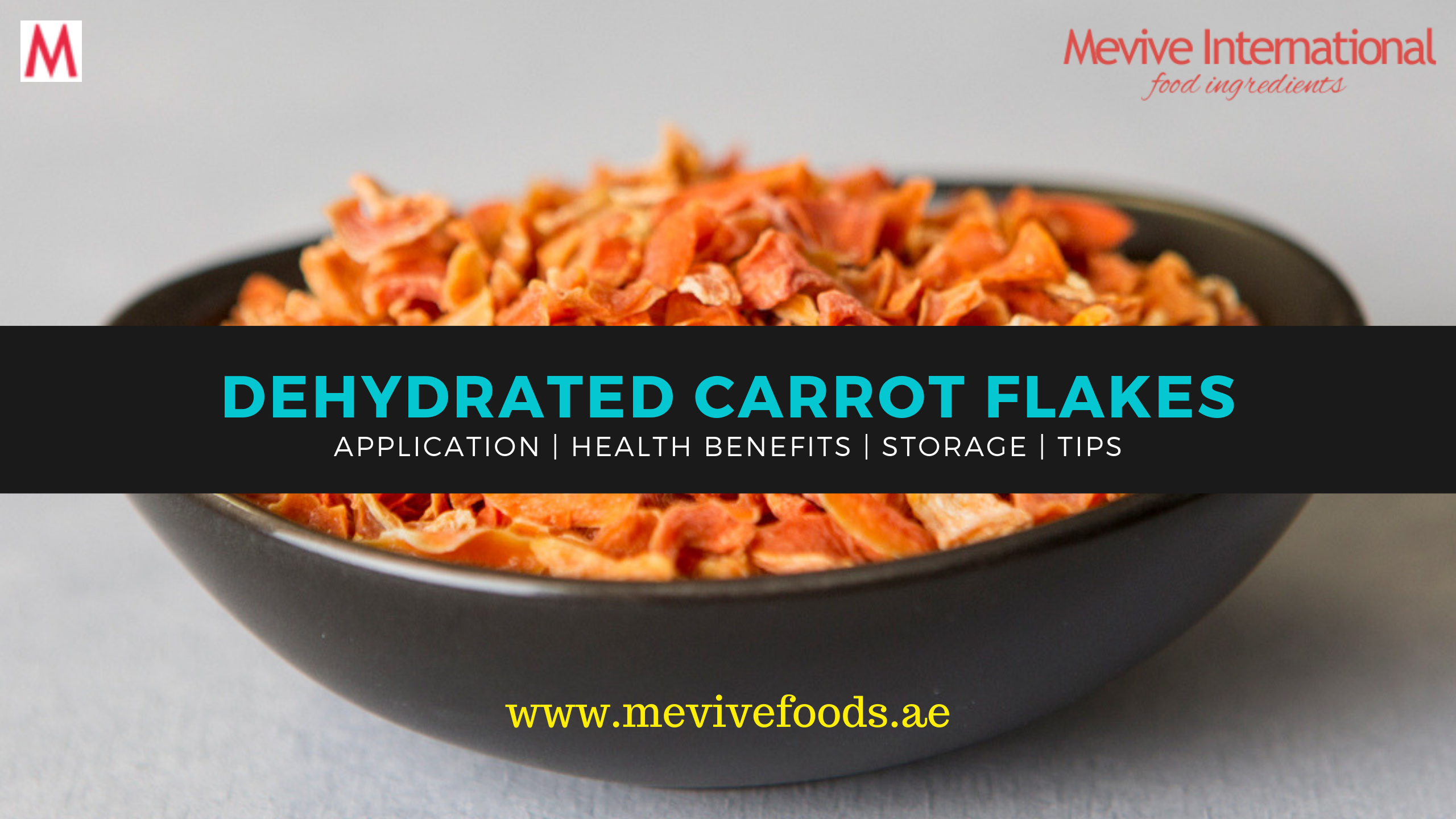 Preservation of Quality and Freshness:
The quality of good carrots starts with picking properly matured carrots at the peak of their freshness and nutrition from the best produce of trusted vendors. Carrots should not have any blemish on surface or any other form of damage. The lower the temperature you dry the carrots at, the more nutrients they are bound to retain.
Carrots are produced through a process in which moisture is removed in a special drying process called puff drying. This process helps to maintain their orange colour and typical fresh taste when rehydrated in water. The vitamin and nutrient qualities of fresh carrots are preserved. So they taste great, and the nutritional food value is preserved too. When rehydrated, it maintains the texture and shape of fresh carrots with no shrinking.
Their flavour is great, almost like roasted or sautéed carrots. If cooked well, their texture can be free-flowing. It is very good as a dry snack. It's a flavour ingredient more than a textured one. It's best used because of the concentrated flavours.
Uses of Carrots:
Restaurants: Carrots are used in preparing a variety of meals, curries, gravies, chat items, juices, desserts etc.
Bakeries: Carrot is used in preparing patties, burgers, rolls, pizzas, plain and grilled sandwiches, etc.
Food factories: It is used in food processing industries and those that manufacture pickles, soup powders, sauce, ready-to-eat mixes etc.
Pharmaceuticals: Carrots are antibacterial and antiseptic. It is used in indigenous medicines, for various ailments of eye, stomach, liver and heart diseases.
Home: Dehydrated Carrots is a popular ingredient in cooking home-made recipes such as gravies, curries, cooked meals etc.
Health Benefits:
Carrots are rich in vitamin A that is good for improving eye health and muscle recovery.
Carrots are good for blood sugar regulation due to the presence of carotenoids that help prevent diabetes.
They have antiseptic and antibacterial qualities that help boost the immune system.
They also serve as laxatives, and can be used to treat liver ailments.
Carrots are good mineral antioxidants and they also stimulate the gums and help combat cavities.
Eating a carrot every day reduces high blood pressure and helps lower the risk of heart attacks.
They are rich in dietary fibre that aids in the digestive process.
Carrots have the ability to improve the skin, as they help detoxify the body.
Mevive Trading LLC is a supplier, exporter of spices, dehydrated vegetables, spray dried fruit powders, freeze dried fruits in dubai.
Tips for increasing shelf life:
Dehydrated carrots should be stored in airtight containers in a cool and dark place.
To extend its shelf life, keeping the carrots in the refrigerator or freezer.
Keep water away from moisture.
Proper packaging is also necessary. Vacuum sealing and the use of oxygen absorbers will reduce the oxidation rate and retain vitamins and nutrients in the food for a longer period.
If you have any requirements on food ingredients in dubai, UAE, Visit: www.mevivefoods.ae. To raise price quotation or to get a free samples, E-mail us at sales@meviveinternational.com