Dehydrated Chives- Health Benefits
Dehydrated Chives are an essential ingredient among the classic seasoning herbs. Closely related to the onion family, these tiny and delicate leafy greens give a mild yet tangy punch combined with their distinctive oniony aroma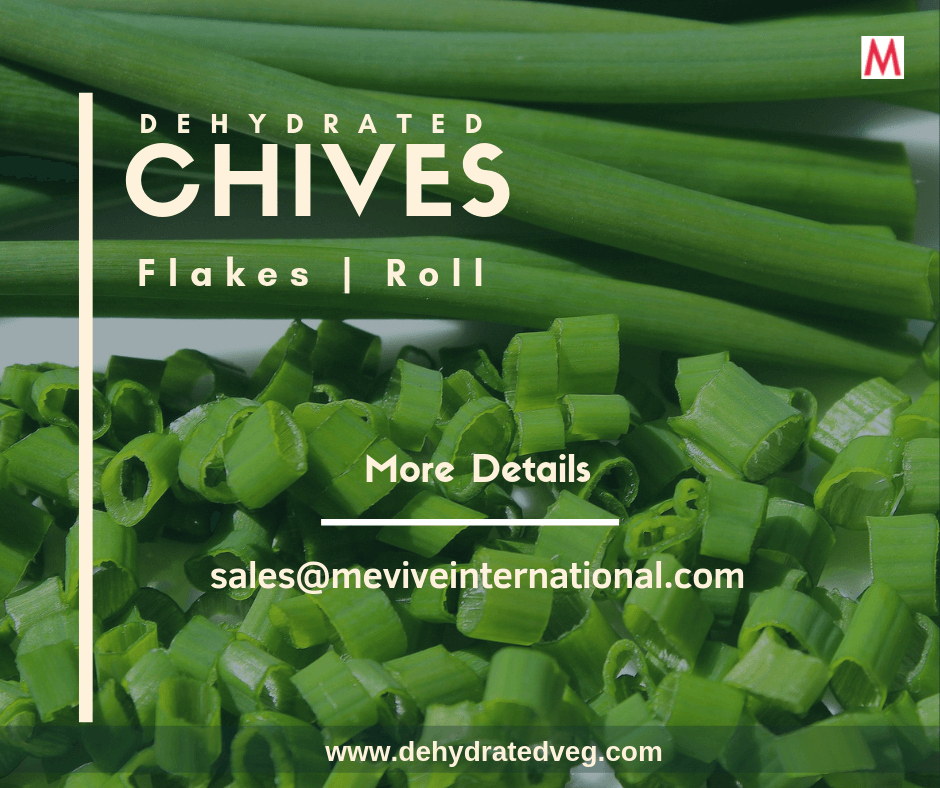 Dehydrated Chives add extra essence and so, serve as an easy garnish and flavour enhancer in various dishes ranging from soups and salads, to omelettes and cheeses. Chives are valued for their many essential minerals as much as their uses in the kitchen. Dehydrated Chives are a great example of dehydrated vegetables that are loved as healthy snacks.These are as good as the sun dried chives, yet have a great shelf life and thus can be kept away as long term food storage for survival or emergency preparedness. For those who love the outdoors, these are light weight and work well for all your camping or backpacking food needs.
Known for their subtle oniony taste, Dehydrated Chives are a delicious way to flavour many dishes. Sprinkling of finely chopped chives on salads, soups and stews just before serving enliven their appearance and makes them more appetising. They are perfect for tying up bundles of vegetables or puff pastry parcels or dumplings. Dehydrated Chives can be chopped up and added to a variety of potato dishes including mashed and baked potatoes. They can also be used as an accompaniment to fish and egg dishes. Sprinkling chopped chives on your scrambled eggs or adding them to omelettes fancy their flavour at brunch.
Health Benefit of Dehydrated Chives:
Improved Heart Health
Bone Strength improvement
Antioxidants
Ease The Digestive Process
Detoxify The Body
Boost Immunity
Boost Vision
Enhance Sleep And Mood
Boost Skin Health
Might Improve Hair Health
Mevive International is one of best suppliers of dehydrated chives in india
Fresh Chive sprigs are washed and gently spin dried. The discoloured leaves and tough stems are then picked out. The dehydrator is pre-heated to the lowest temperature. The herbs are chopped and clipped to ¼ inch pieces and spread over in a thin layer on trays in the dehydrator. And, the chives thus dehydrated until brittle such that the leaves are crisp and crumbly between the fingers.
We are one of the eminent names as a celebrated manufacturer and supplier of Dehydrated Chives. Our products are organically processed using high-grade ingredients and latest technology meeting international standards. Our expert professionals ensure that their natural aroma, colour, taste are preserved
They do not contain any artificial additives or preservatives. Furthermore, our products can be availed in varying quantity packaging at economical price ranges. Our products are widely acclaimed by our esteemed clients for their purity and longer shelf life.
For More about our product Visit: www.dehydratedveg.com
If your want known price and sample means mail at sales@meviveinternational.com