Dehydrated Garlic Flakes | Manufacturer | Supplier
Dehydrated Garlic Flakes are an essential condiment in an array of spice mixes in any kitchen. Pale yellow in colour, our dehydrated garlic flakes have an excellent flavour and taste similar to the real ones. They let out a distinct and sharply pungent fragrance that acts as a great seasoning ingredient in various culinary delicacies. These dehydrated garlic flakes are highly popular for their freshness and fine nutritional value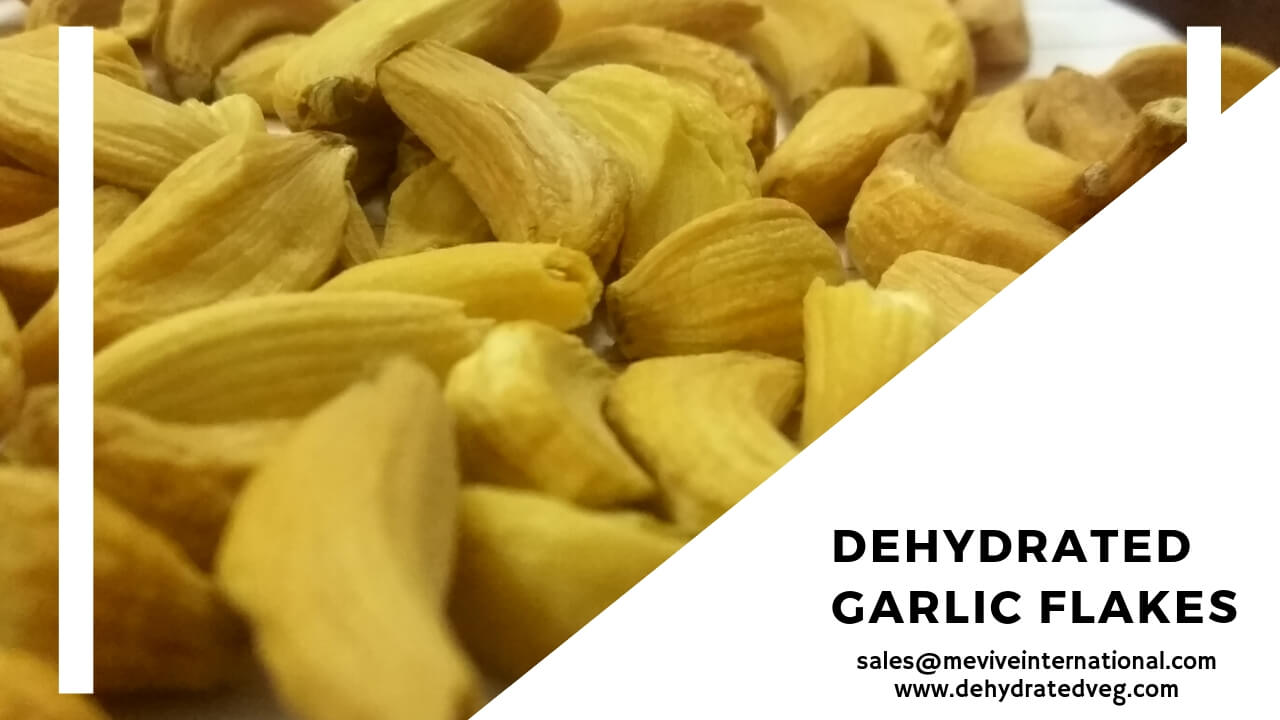 Bulbs of garlic are twisted and broken in to cloves with the use of mild pressure, and scrubbed manually or using machine to ensure removal of the skin and its separation from the cloves
These cloves are sliced by machine in to smaller pieces which are dried and dehydrated. These garlic pieces are filtered through a mesh to ensure uniformity, once the desired size is obtained.
Health Benefit of Dehydrated Garlic Flakes:
Cardiovascular health
The Blood Purifiery
Prevention of Heart Disease
Cold and Flu
Cancer Prevention
Splinters
Anti-bacterial and Anti-parasitic
Prevents Hair Loss
Improve Immune System
Regulates Blood Sugar
Mevive International is one of best suppliers of dehydrated White onion Flakes in india
Dehydrated garlic flakes are perfect for baking garlic bread and other bakery items and can be added directly to dishes such as salads, soups, stews, casseroles, dressing, gravies, pickles and sauces and marinades. The flakes are mainly used for canned food, pizzas, hamburgers etc. and also in the preparation of fast food.
We are a renowned and fast growing manufacturer and supplier of premium quality garlic flakes. Our Dehydrated Garlic Flakes are highly appreciated for their rich taste and purity. Hygienically processed, our expert professionals ensure that its natural colour, aroma and taste are preserved. With longer shelf life, our product range is made available in food grade materials at the most competitive prices in the market.
For More about our product Visit: www.dehydratedveg.com
If your want known price and sample means mail at sales@meviveinternational.com
List of our Dehydrated Garlic Flakes
We are the best in the business of dehydrated garlic flakes supplier and manufacturer in india
Dehydrated Garlic flakes
Dehydrated Garlic Minced
Dehydrated Garlic Granules
Dehydrated Garlic Powders
For Detail about Dehydrated Garlic Flakes suppliers in dubai