Dehydrated Ginger Flakes and Powder
Available in various sizes, ginger flakes are known for their tangy taste and adds a strong aroma. A white off-whitish colour, ginger flakes have a hot and spicy flavour that is sharp and refreshing and gives a tingling feeling to the taste buds. Ginger flakes are versatile and is one of the important ingredients used often in Asian cuisine.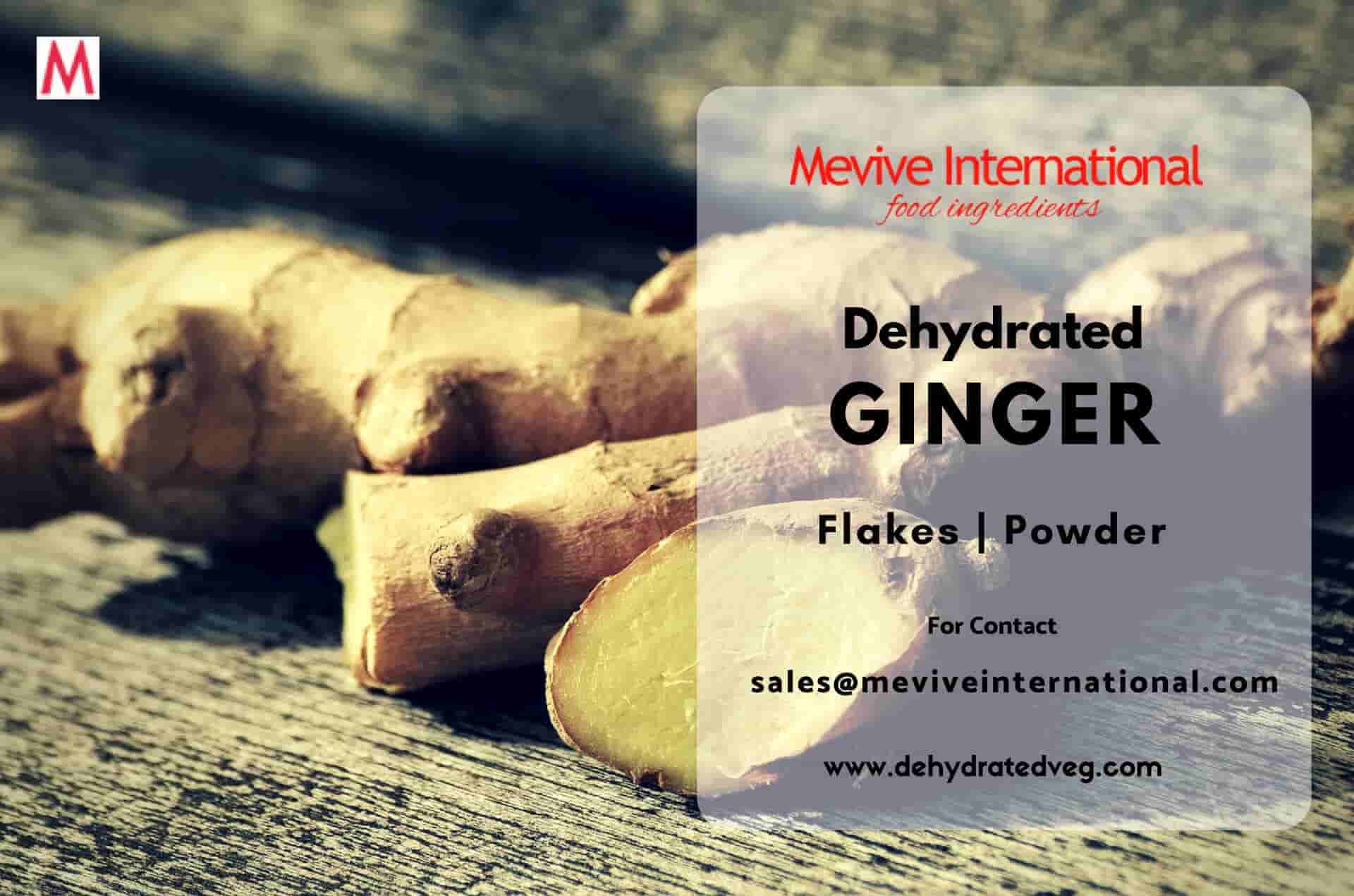 Dehydrated Ginger is nothing but fresh ginger which undergoes a drying process before being used. The fresh rhizome is soaked in water overnight to get rid of the dirt. After this, wash it in running water and the outer peel is carefully removed using a knife or peeler and sliced in to very narrow and thin flakes. It is then put to dry in the hot sun. And, thus is made, the dehydrated ginger flakes, which if ground becomes the dehydrated ginger powder form.
Dehydrate ginger flakes is usually used in making spices and masalas used in gravies, curries, marinades, stews etc. It is used to brew tea, and the flakes are crushed in India, especially Punjabi marinades for Tandoori starters, be it vegetarian or non-vegetarian.
Health Benefit of Dehydrated Ginger:
Relieves Nausea
Treats Cold and Flur
Removes Excess Gas
Stomach Ulcers
Reduces Arthritis Pain
Relieves Asthma
Prevents Cancer
Improves Cognition
Relieves Muscle Pain
Controls Diabetes
Mevive International is one of best suppliers of dehydrated ginger flakes and powder in india
We are counted among the prominent Dehydrated Ginger Flakes manufacturers and suppliers in India, which are also exported. These gingers are processed in a hygienic manner and manufactures by using the latest technology and hygienic conditions.
We have maintained high quality standards in the market by using high using high-grade raw materials obtained from reliable sources. Packed air-tight and moisture free, our dried ginger flakes are widely appreciated in the market.
Quality control is strictly followed that ensures that only premium products reach the clients. We are committed to offer the finest dried ginger powder at the most competitive prices in the market
For More about our product Visit: www.dehydratedveg.com
If your want known price and sample means mail at sales@meviveinternational.com
List of our Dehydrated Ginger products
We are the best and 100% natural dehydrated Ginger flakes and powder supplier in India