Natural Dehydrated Red onion Flakes | Mevive
Dehydrated Red Onion Flakes are extensively used by homemakers, restaurants and chefs for cooking a variety of delicious dishes. Filled with natural aroma, Dehydrated Red Onion Flakes is sure to enhance the taste and flavour of your dishes as that of freshly cut onions. They add a divine touch of richness and mouth-watering texture to variety of ethnic and traditional cuisineand are therefore, highly demanded by our customers in the domestic andinternational market.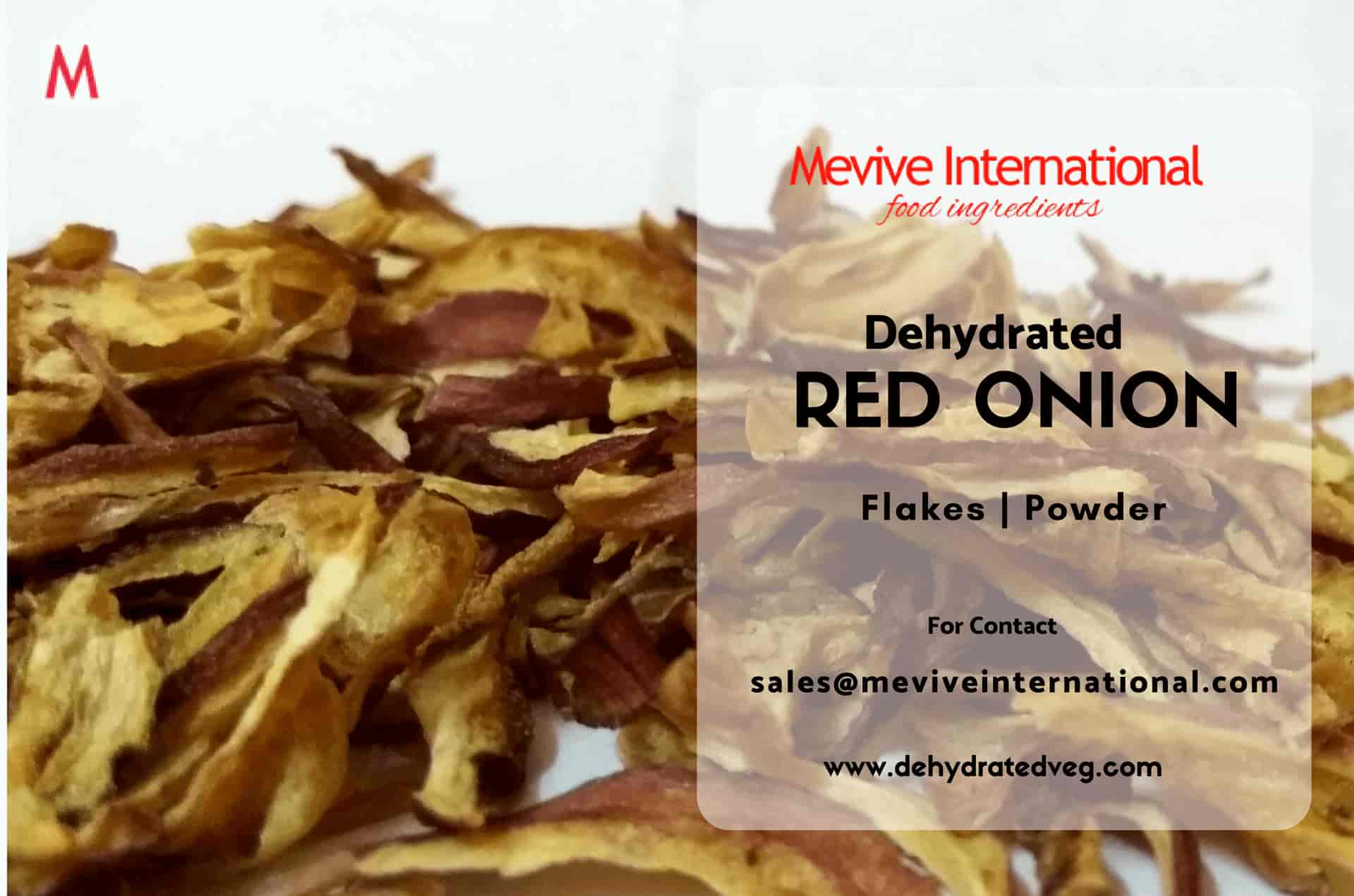 These Onion Red Flakes are extensively used in various cuisine. They are opted for as an alternate to the fresh ones and used in preparation of soups, toasts, sauces, pizzas, curries, gravies, and pickled products. It is also widely used for dressing salads, for producing seasonings and for preparing various savoury items like sea food, snack items and so on.
Our Dehydrated Red Onion Flakes is prepared from sound and mature onions, which was been properly washed, peeled, topped and tailed cut into desired cut size. After dehydration, the product is sorted, sieved and graded.
Health Benefit of Dehydrated Red Onion Flakes:
Dietary Fiber
Anti-inflammatory
Immune system
Cancer
Digestion
Regulating blood sugar
Bone density in older women
Improve Heart Health
Improve Immune System
Enhance Eye Health
Mevive International is one of best suppliers of dehydrated red onion flakes in india
We are a celebrated manufacturer and supplier of Dehydrated Red Onion Flakes. Our specialisation lies in offering the best quality A-Grade Dehydrated Red Onion Flakes that are well appreciated by our clients.
We, hygienically process Dehydrated Red Onion Flakes from fresh red onions and dispatch them in the market only after thoroughly examining it and ensuring that its quality is maintained.
The Dehydrated Red Onion Flakes are supplied in bulk in moisture-proof packages. And, they can be purchased at economical prices in the market. We also one of the best suppliers of dehydrated red onion flakes in dubai
For More about our product Visit: www.dehydratedveg.com
If your want known price and sample means mail at sales@meviveinternational.com
List of our Dehydrated Red onion products
We are the best and 100% natural dehydrated red onion flakes suppliers in India
Dehydrated red onion flakes
Dehydrated red onion roll
Dehydrated red onion Minced
Dehydrated red onion Granules
Dehydrated red onion powder
For Detail about Dehydrated Red onion powderfind On our blog