Dehydrated White Onion- Flavour Profile
An instantaneous swap in conventional lifestyles has escalated the popularity of convenience and RTE food products. Dwelling on prehistoric times, the catch sight of flavorful versatile white onions was far and wide as it was contemplated as the staple and commercial vegetable. On grounds that white onions easily decay, the ongoing trends exploit moisture out white onions to save an intense onion scent and purity for a better stay.
Mevive constantly strives to come up with supremely nutritious dehydrated products confessing a less perishable nature. Mirroring these words we have built up a humble staple vegetable as a culinary spice that evolves and modernizes by employing our dehydrated white onions.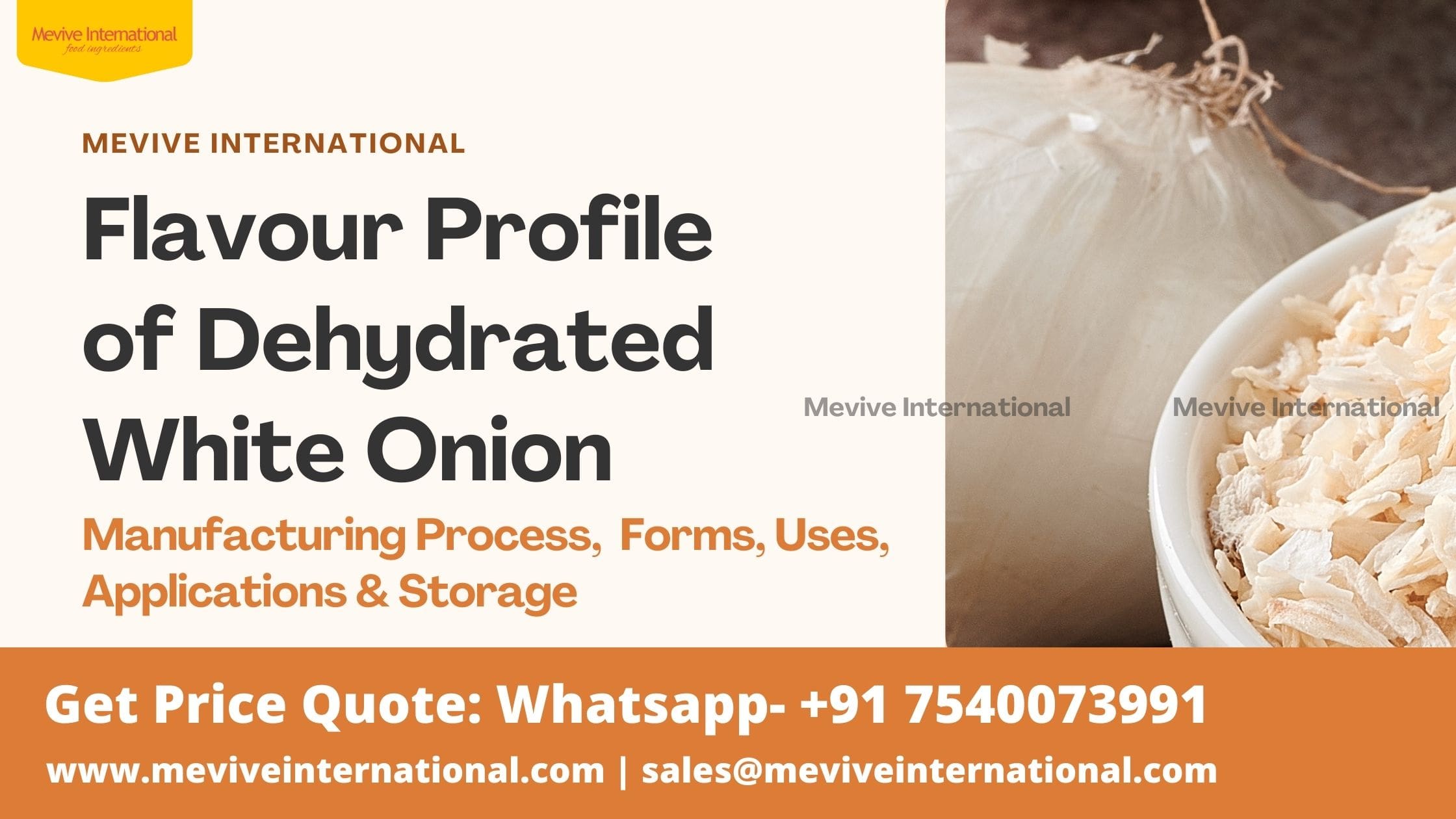 Manufacturing Process:
Bouncing into the flavour profile of Mevive's dehydrated white onions; we unearth an exemplary unity of tart and sweet in a sharp touch. Fresh white onions being stocked up with moisture content shall be destined to root distinct effects on any variety of edibles and cuisines. But our dehydrated white onions inaugurate a universal sharp and distinct aroma with sweet undertones setting up an essential base profile for all instant gravy and seasonings.
Dehydrated white onion is available in powder, flakes, Granules, Chopped, Minced, Toasted, Roasted, Oil fried
Forms of Dehydrated White Onion:
We extract watery content from piles of fresh white onions to seal up Mevive's bulks of dehydrated white flakes with a smack flavour. Mevive's dehydrated white flakes vdehydrated onion can be availed tear-free in some discrete texture of crispy flakes, powder, coarsely chopped, granules, minced, brownish oil-fried, roasted, and toasted with increased concentrated flavour and nutritious content. Our dried white onions rehydrate and reconstitute when soaked or blended in a warm liquid/medium heat perking up the touch of onions.
Uses and Applications:
Eradicate the signs of burns and caramelizing by signing up with our instant dehydrated white onion bulks. The dried white ones can be interchangeably utilized in developing new instant products identical to canned or RTC food products.
Mevive's flavour capturing dehydrated white onion powder brands instant masala to attain a unique tasty blend. Both relishing dried white onion flakes and powder showers their aroma and mildly sweet taste in the seasoning powder/mix of noodles, instant biryani, and pulao. Instant Soups/Stews and salads pick our premium dried white onion flakes for the oniony touch. Gravy & Instant food mix handpicks our authentic dehydrated white onion spice for a clump-less treat pack.
Storage of Dried White Onion:
Mevive's dried white onions are delicately textured which owns a servable life stay of 12 months. We vacuum seal our dried bulks to offer premium quality at an affordable price. It is desirable to accumulate our bulks in a well-ventilated, cool, and dark place in absence of direct sunlight. Furthermore, plenty of brands customize and bulk buys our dried white onions with a speedy dispatch.
Any queries or product requirements? Submit an enquiry on our website or email us at sales@meviveinternational.com or get an instant reply on our WhatsApp: +91 7540073991.