Desiccated Coconut Powder Supplier, Exporter
Desiccated coconut is simply the white flesh of fresh mature coconut kernel, which has been grated and dried. In snow-white appearance, it has a sweet pleasant and fresh taste of the nut. It is prepared and preserved by removing the natural moisture in the coconut fruit. Desiccated coconut serves as a perfect substitute to raw grated coconut used in bakeries, confectioneries and a lot of household preparations as well.
Forms of Desiccated Coconut:
Desiccated Coconut availed in varied forms that include toasted, roasted, sweetened and unsweetened. And, it comes in a wide variety of sizes ranging powder to much larger chunks and a whole host of shapes and sizes.
Desiccated coconut Powder
Desiccated coconut Flakes
Desiccated coconut Shredded
Desiccated coconut Flour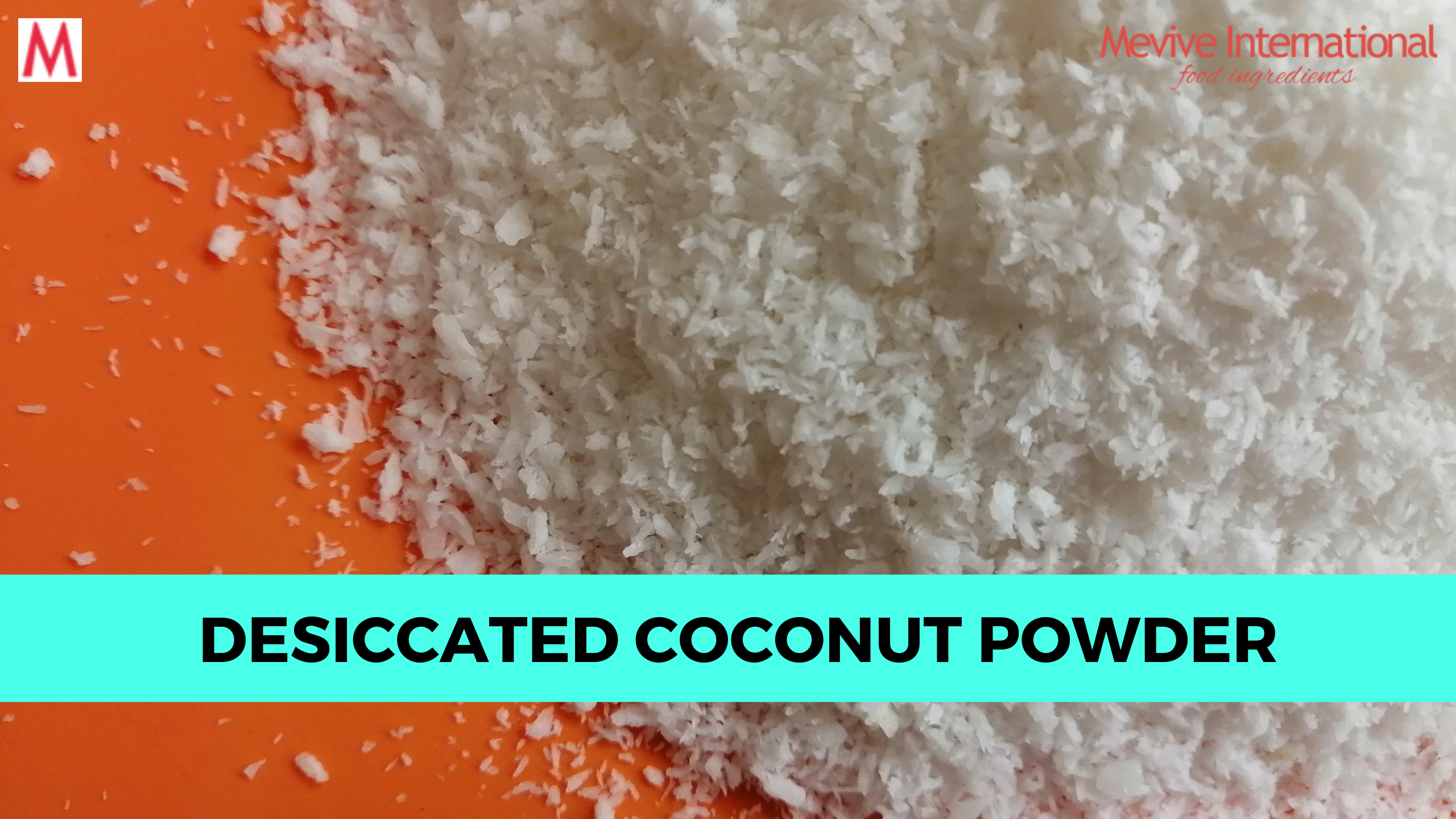 Manufacturing process:
Desiccated coconut is produced from the white part of fresh, mature coconut kernel. Using the grater, the white part is grated or shredded into desired sizes such as flakes, granules, chips, or shreds. Spread the shredded coconut uniformly over a thin layer onto a baking sheet. Preheat the oven to 250°F and place the baking sheet with the coconut pieces into it. Bake over low heat for about 5-10 minutes. Once, it loses its creamy texture and gets brittle, which means that it has dried. That is the form of desiccated coconut.
Uses:
Desiccated coconut is a major ingredient used in preparing sweet and savoury dishes. It not only imparts a sweet coconut flavour and texture but is also applicable as a topping or coating of cookies and sweets. Desiccated coconut is delicious on its own to be eaten as a snack. It is often added to hot and cold cereals and also to baked goods. It can also be used in smoothies, sprinkled on salads, and stirred in to sautéed vegetables. It is a common ingredient in South Indian gravies such as Sambhar, cakes, chutneys, fritters, patties and stuffing in pakoras.
Our quality supplies of Desiccated Coconut Powders are best for making a delicious cakes, muffins, cookies, baked goods, puddings, confectionery, etc.
Applications:
Desiccated coconut has a multitude of culinary food applications right from sweet to savoury dishes, from appetisers to heavy lunches, from homemade delicacies to instant food preparations etc. These include:
Restaurants: Desiccated coconut is used to prepare a variety of dishes like chutney, sautéed with vegetables, sambar, vegetable kurma, kootu, salad and so on.
Bakery: Desiccated coconut is used in preparing cookies, biscuits, cakes, pastries, desserts, puddings, smoothies or other baked goods, in which, perishable raw grated coconut cannot be used.
Confectionery: It is used is making chocolates, biscuits, sweets like coconut burfi, ladoo, seasoning choco-pies, tarts, coconut balls, chocolate coconut balls, ice creams etc.
Food factories: Desiccated coconut is used in food processing industries preparing instant food like seasoned vermicelli, seasoning powders of sambar, stews, coconut milk, coconut flour, cereals, granola, coconut chikkis, ready-to-eat mixes etc.
Beverages: As a beverage, it can be used to make packaged tender coconut water, coconut milk, raw soups, sherbets, etc.
Home: Desiccated coconut is a popular ingredient in cooking home-made recipes like chutney, gravy dishes like sambar, kootu, vegetable kurma etc., curries of various vegetables like beans, cabbage etc., coconut milk etc. Flavoured with jaggery, desiccated coconut is used to make kheer (payasam), and also sweets like modaks (kozhukattai), puffed rice balls, coconut burfi, etc.
Advantages:
The wonders of coconut never stop to amaze. The health benefits of a desiccated coconut are similar to that of fresh coconut but there is a slight loss in nutrients due to the preservation process. But, they too contain high in nutritious value and it's always better to add dried coconut into your daily meals, as they can add a great flavour and variety to delightful recipes. But, it should be enjoyed in moderation for those counting their calories or following a low-fat diet.
Desiccated coconut is made out of fresh matured coconuts. This ensures a distinctive taste and a good mouth feel. In many regions of South India, desiccated coconut is used as a garnish in several traditional dishes or any other coconut based recipes in which raw grated coconut that is perishable cannot be used.
Due to less moisture content, the shelf life of desiccated coconut is longer than that of fresh ones. If refrigerated, it can be stored in airtight polythene pouches and preserved up to six months. So, you can enjoy the goodness of coconut all year round.
And, if you have sudden guests and want to cook up a meal that requires coconuts, desiccated coconut come to be very handy, as you don't have to go through the long process of breaking a coconut up to having them in desiccated form.
Storage:
If looked after properly, desiccated coconut stays nice. It can be stored in an airtight container in a cool and dry place. This should keep the coconut fresh for up to six months.
If you have any requirements for a range of desiccated Coconut, check with us at sales@meviveinternational. Submit your requirements! Get price quotation! Try our samples for Free! Order with us!