Dried Kasuri Methi Leaves & Powder- Bulk Supplier, Manufacturer, Exporter
Kasuri Methi is a powerful condiment that occupies an important place in the spice rack in any Indian kitchen. It is an herb with a strong aroma and distinct taste, though bitter yet addictive. Known for its wide usage flavouring agent in Indian curries, dal and veggies, their distinctive flavours fascinate the taste buds. That makes Kasuri Methi leaves, one of the most popular spices of India. Our Dried Kasuri Methi leaves are pure and the extra-ordinary taste is superior to the other brands Kasuri Methi.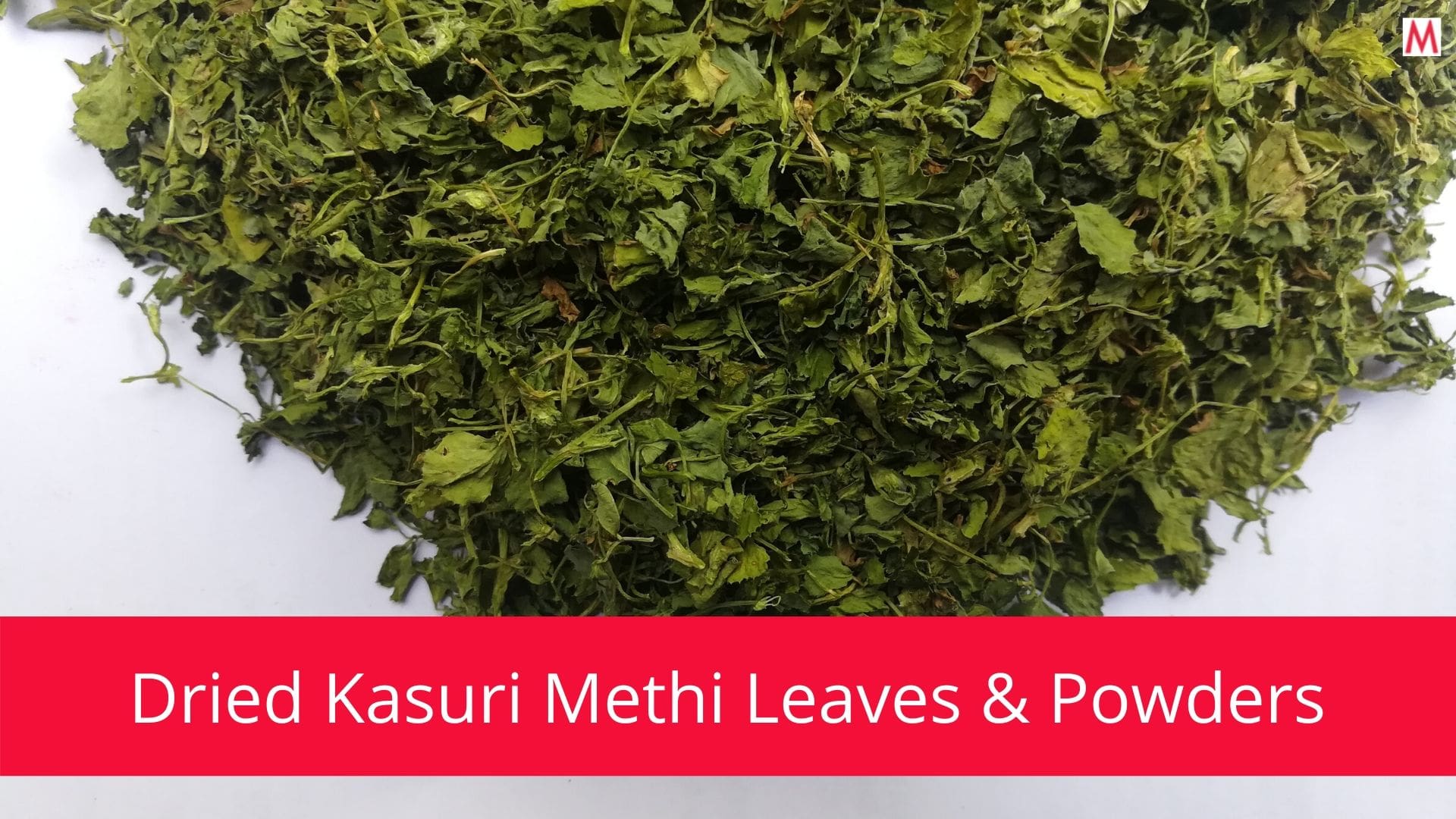 Manufacturing Process:
Firstly, the fenugreek leaves are cleaned by clipping off their stalk and root. Sort out the rotten ones. After that, they are washed well with water, drain and spread them evenly. Ensure that the leaves do not overlap with one another. The Methi leaves are then dried either in sunlight or in a forced circulation of solar hot-air-dehydrator at anywhere between 40 degrees Centigrade to 60 degrees Centigrade. Once the kasoori leaves get slightly crisp, they are removed off the dehydrator and allowed to cool.
Application:
Dried Kasuri Methi leaves are generally used as a condiment for flavouring various Indian curries and subzis and enhance their taste. It combines well with starchy or root vegetables like carrots, yams and potatoes. It can be added to whole wheat dough to make flavourful roti, paratha and naan. A teaspoon of dehydrated Methi leaves, when added to Upma and Khichdi will make them flavoursome. It can be added to garnish salads, soups, raita, dal and gravies etc.
Usage Direction:
Soak Dry Kasuri Methi leaves in boiling water and add to vegetables, dal to enhance their flavour and taste. This soft Kasuri Methi can be mixed with flour to make tasty paratha's, chapati and naan.
Storage Tips:
To retain its freshness, store dry leaves in an airtight container away from moisture in a cool and dry place. If refrigerated, it can stay fresh up to 6 months.
Mevive International is a prominent supplier, manufacturer, exporter of Dried Kasuri methi Leaves and Powder. Bulk Pricing available! Get Free Samples! Place an Order!
Recipes:
Dry Dishes- Aloo Methi, Paneer Fry, Kadai Subzi, Bhindi Fry, Aloo Jeera, Paneer Tikka, Paneer/ Vegetable, Khatti Rolls, Skewered Grilled Vegetables.
Dals and Rotis- Dal Fry, Dal Makhani, Kulchas, Methi Parathas, Dal Makhani.
Gravies- Chole, Rajma masala, Aloo Dum, Palak Paneer, Mattar Paneer, Paneer Butter Masala.
Rice Dishes- Khichdi, Pulao, Vegetable Rice.
Any requirements on Dry kasuri methi powder & leaves? Connect with us here or email us at sales@meviveinternational.com. To check our complete Dry whole Leaves and powders product list, Visit our website: www.dehydratedleaf.com.
You may also like