Garlic Powder Vs Onion Powder
Two working seasonings are finally getting their turn in the spice spotlight. Yes! It's time to welcome the onions and garlic that remain to be the universal ingredients with their distinct flavours. Garlic, being the doppelganger of onion seems to have a similar flavour profile. Fresh vegetables have tedious cleaning and cooking process. This paved the way for convenient come easy storage by drying.
Flavour profile:
Hey, instant products! Ever got blended with some garlic that doesn't taste garlicky and onions without pungency? The milder the spice greater will be its taste. The dehydrated garlic & onion powder gives an ideal solution for providing the best bright flavours.
A few pinches of garlic and onion powder can offer a full-flavoured dish. Unlike garlic that overpowers, garlic powder will be less harsh with an aggressive flavour. Onion powder has got a unique flavour composing the sweetness and garlic hints.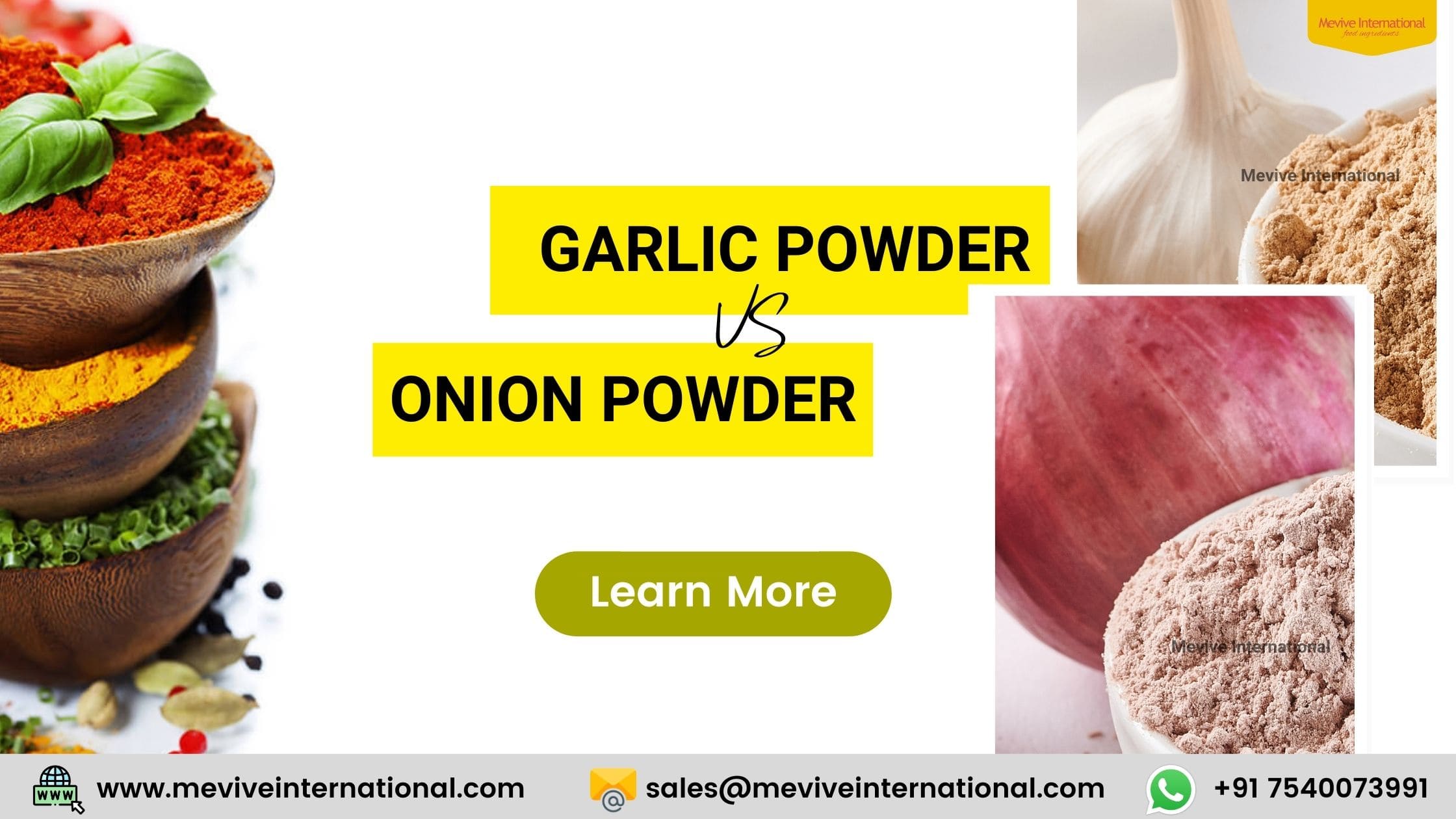 How Onion and Garlic Powder are made up of?
Garlic powder comes from the ground and dehydrated garlic cloves. On other hand, onion bulbs are dried and ground to onion powder. Now, let's take some time to determine the best choice in this contest. Either onion powder or garlic powder, putting a little amount can blend the entire flavour. The main advantage of using these powders is that they are simpler to unite with any dry product, longer shelf life and Water Soluble.
Onion powder and Garlic Powder are the top fast-moving products catering to masala, seasonings, ready to cook
Application of Onion and Garlic Powder:
These powders can completely avoid clumps, skin peels, and raw taste. Indian authentic cuisine gets fulfilled only by adding the right amount of masalas to it.
Masala powder is not just a blend of specific spice but it is a combination of multiple spices. The key ingredients in masala powders will be the apt amount of dried garlic and onions. Any masala will remain incomplete without these hints of both onion and garlic powder.
Also, dried onion and garlic melds with any spice blend making it perfect for loading dosage of pungent punch and sweet funk. A seasoning blended with onion and garlic powder can make the best rubs for meat, popular toppings for popcorn, supplemental garnishing for pizza & pasta, and absolute choice for marinades.
They both can add different intensities to sauces, stews, ready to cook and instant gravies as well. Mevive's garlic powder can promote any instant product's utility by enhancing the spicy taste. One fat pinch of our onion powder can turn any product into pungent.
How mevive the best supplier of onion and garlic powder?
Need some bulks that can drive demand for your instant product? Buying Mevive's spice bulk just got easier! Mevive International is a leading B2B spice industry that ensures to deliver you the best quality of finest food ingredients. The extensive application of our garlic and onion powders is in commercial purpose businesses that include eateries, restaurants, and FMCG products. Bring the secret value of our true spice to your brand.
Want to try dehydrated products? Submit your requirement at our website or email us at sales@meviveinternational.com or Whatsapp +91 7540073991