List of Processed Gherkins Ingredients
About Gherkins:
Hovering over the preserving and pickling chronicle, we found the top pick for cheeky gherkins. Gherkins are nutritionally tiny savoury ones entitled the baby cucumber or little bumpy pickled cucumber, a member of the gourd family. They are vegetables that are the doppelganger of cucumber. In India, Karnataka, Tamil Nadu & Andhra Pradesh affords the warm climate that makes gherkin flourish.
How Gherkins are processed in Brine?
Contemplating in miscellaneous ways processing and bottling a vegetable or blend of mixtures employing the food ingredients imparts an accessory flavour sensation and auxiliary blanket over the shelf life. Only clean and sound food ingredients can build a pickle possessing the nutritive sweet, spicy, and seasoning flavours. Also, pickling a gherkin is not a walk in the park since it might take up to 30 days. The gherkins remodel their texture when immersed in any brine solution. Sour gherkins can be conferred with Mevive's high inventive flavours of food ingredients.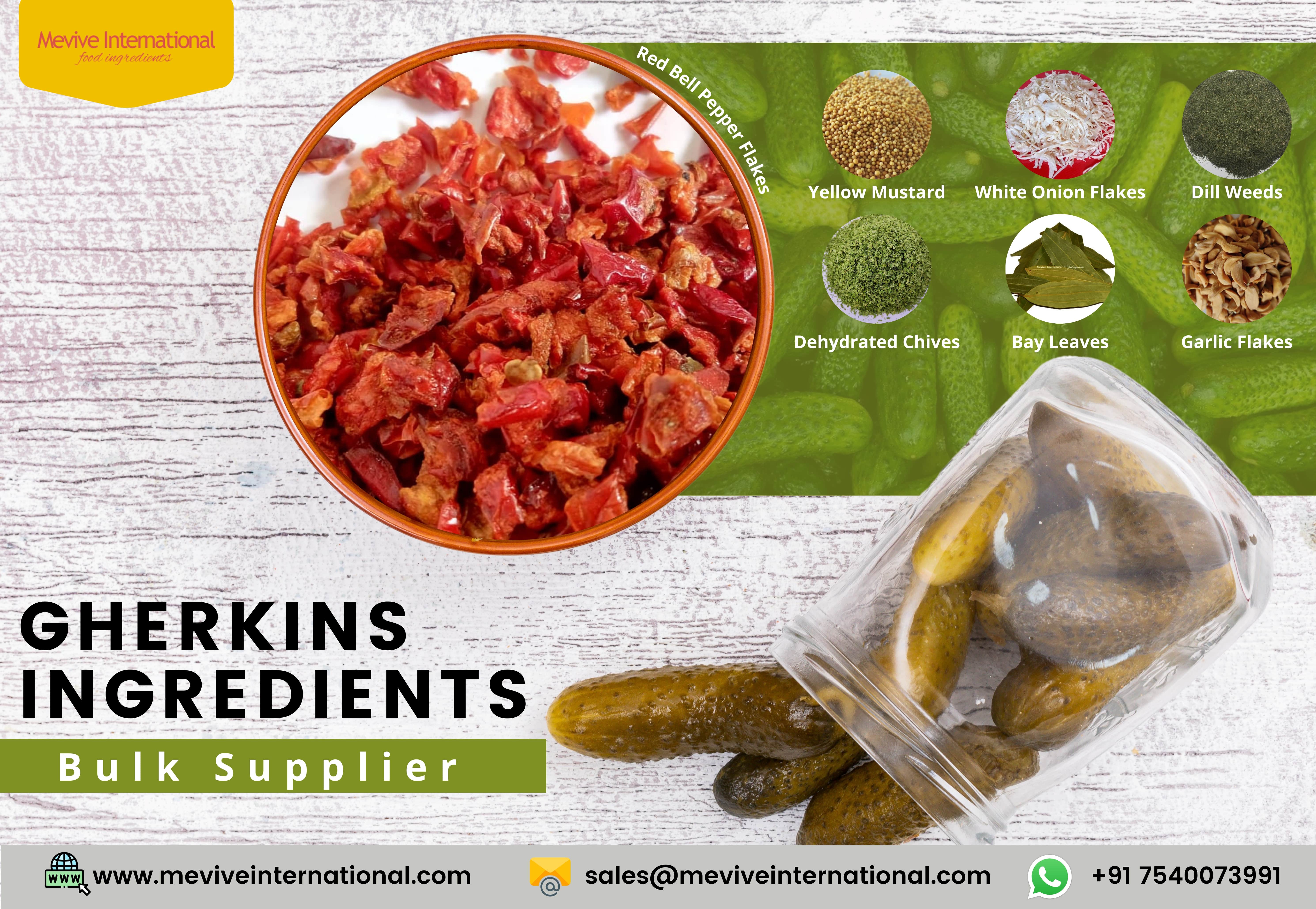 List of Ingredients in Processed Gherkins:
The food ingredients for prompting Gherkins pop up from Mevive to unite an impactful strong flavour in an entremets form or partnering burgers, sandwiches, and hot dogs. Pickled cucumber can incredibly unleash the sweet and sour blend when pickled using our food ingredients. Mevive avails its exceptional flavour for the gherkins with our dehydrated red bell peppers, dried dill weeds, dry bay leaves, yellow mustard seeds, white onion flakes, garlic flakes, and dehydrated chives.
Our dried dill weed lets out the soothing aniseed flavour in a milder version and retains a refreshing taste. Tuck in the wonderful foundational aroma of our dry bay leaves that pours out live freshness in the gherkins jar.
Our yellow mustard seeds are inevitably manufactured for pickling vegetables and fruits. It elevates a short-lived heat and pungent flavour.
there's New Way to connect with us, Save our Whatsapp Number +91 7540073991 for Sales Assistance. Easy to Connect. Quick Response
Dried red bell peppers hold a distinct sweet earthy flavour.
White Onion Flakes leave hints of sweetness with sharpness in the gherkins container. They unite a mild raw taste too.
Garlic Flakes unlock the raw and subtle flavour of garlic with slight sweetness whereas our dehydrated chives drizzle the oniony taste.
How Mevive International the Best supplier of Gherkins Ingredients?
The Canned foods sector meets Mevive to flaunt their brands by turning out into a profitable venture with our distinct herbs and spices. Mevive International Food ingredients construct a unique blend of gherkin setting forth a remarkable finish in canned foods/vegetables. The supreme water content gherkins are infused with Mevive's distinct spices and herbs to unveil the spicy garlicky treat with sweet tanginess. Persuade the salt cravings with super hydrated and antioxidant-loaded gherkins stuffed with our food ingredient bulks at the most affordable price.
Sales Assistance made easier Now! Save our Whatsapp Number +91 7540073991 & get in touch with our Sales team. Any queries related Products,prices, specification, Samples, Trial Order, Quotation are appreciated.