Dried garlic powder Supplier | Manufacturer | India
Dehydrated Garlic Powder is a popular seasoning ingredient in the kitchen spice rack. Garlic powder is dried garlic that is finely diced to create its powdered form. Dehydrated Garlic Powder is aromatic and goes well with most herbs and spices as a result of which it is widely used in making of different types of cuisine. Once crushed, they emit a strong and sweetly pungent taste that enhances the flavour of a variety of cuisines. It is a good alternative to fresh garlic that just a few pinches of this fine textured powder help produce a full-flavoured dish.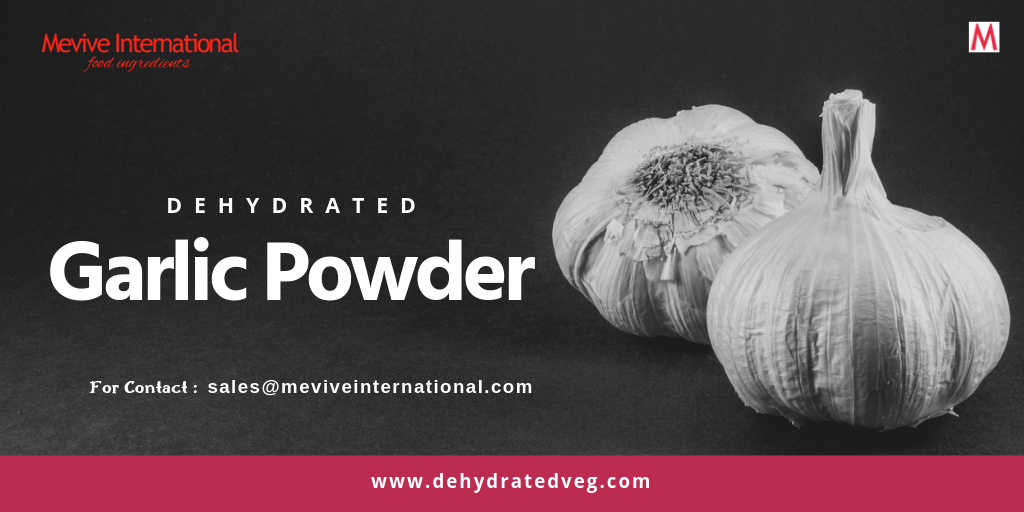 Fresh garlic bulbs are peeled and chopped in to thin flakes. Then, they are placed on a dry pan that is inserted in to a pre-heated dehydrator to ensure they are fully and uniformly dried. Finally, they are put in a blender to crush them in to a fine powder than is sifted through a strainer to separate the chunks from finer powder.<
Dehydrated Garlic Powder is used to prepare garlic breads and bakery items or to sprinkle on pastas and pizzas, apart from flavouring a wide variety of dishes like chutneys, rice, curries, soups, sauces, dips, salads etc. Garlic powder is a good choice for marinades that make it prefect for seasoning meat and veggies, and serves as a welcome addition in snack items such as popcorns and roasted nuts. The other applications include fast food, stuffing mixes, gravies, pickles, seafood and canned food.
Health Benefit of Dried garlic powder:
Stabilizes Blood Pressure
Lowering LDL cholesterol
Prevents Cardiovascular Diseases
Improve Bone Health
Relieves Intestinal Ailments
Regulates Blood Sugar
Prevents Thromboembolism
Helps Fight Cancer
Strengthens Immune System
Treats Asthma And Common Cold
Mevive International is one of best suppliers of dehydrated Garlic flakes and powder in india
We are a celebrated manufacturer and supplier of Dehydrated Garlic Powder that is used in a variety of cuisine.
Our premium quality garlic powder is extracted from hygienically processed fresh garlic pulp using the state of the art machinery and adopting innovative techniques. It is highly appreciated by our clients for its freshness and purity that is maintained with quality packaging under the supervision of our quality assurance experts that elongates its shelf life. Dehydrated Garlic Powder is available at reasonable prices in the market.
For More about our product Visit: www.dehydratedveg.com
If your want known price and sample means mail at sales@meviveinternational.com
List of our Garlic products
We are the best and 100% natural dehydrated Garlic powder supplier in India
Dehydrated Garlic flakes
Dehydrated Garlic powder
Dehydrated Garlic granules