Dried Tomato Flakes Supplier | Manufacturer | India
Dehydrated Tomato Flakes is a sweet and zesty seasoning that absolutely bursts with flavour in their sun-dried state. Hand-harvested from top quality tomatoes, Dehydrated Tomato Flakes are a delicious accompaniment that goes great with soups, salads, hummus, toasts etc. These red flakes add a vibrant colour and an impressive depth of flavour to all sorts of dishes that makes them a must-have ingredient in every kitchen. And, they are loved for their distinct aroma; so, can be used in place of fresh or dehydrated tomatoes in variety of dishes right from soups and casseroles, to fruit salads and smoothes. That also makes them ideal for easy cooking, snacks, backpacking expeditions, and camping. These dry and delectable tomato flakes make a healthy addition to any meal and at the same time easy and enjoyable too.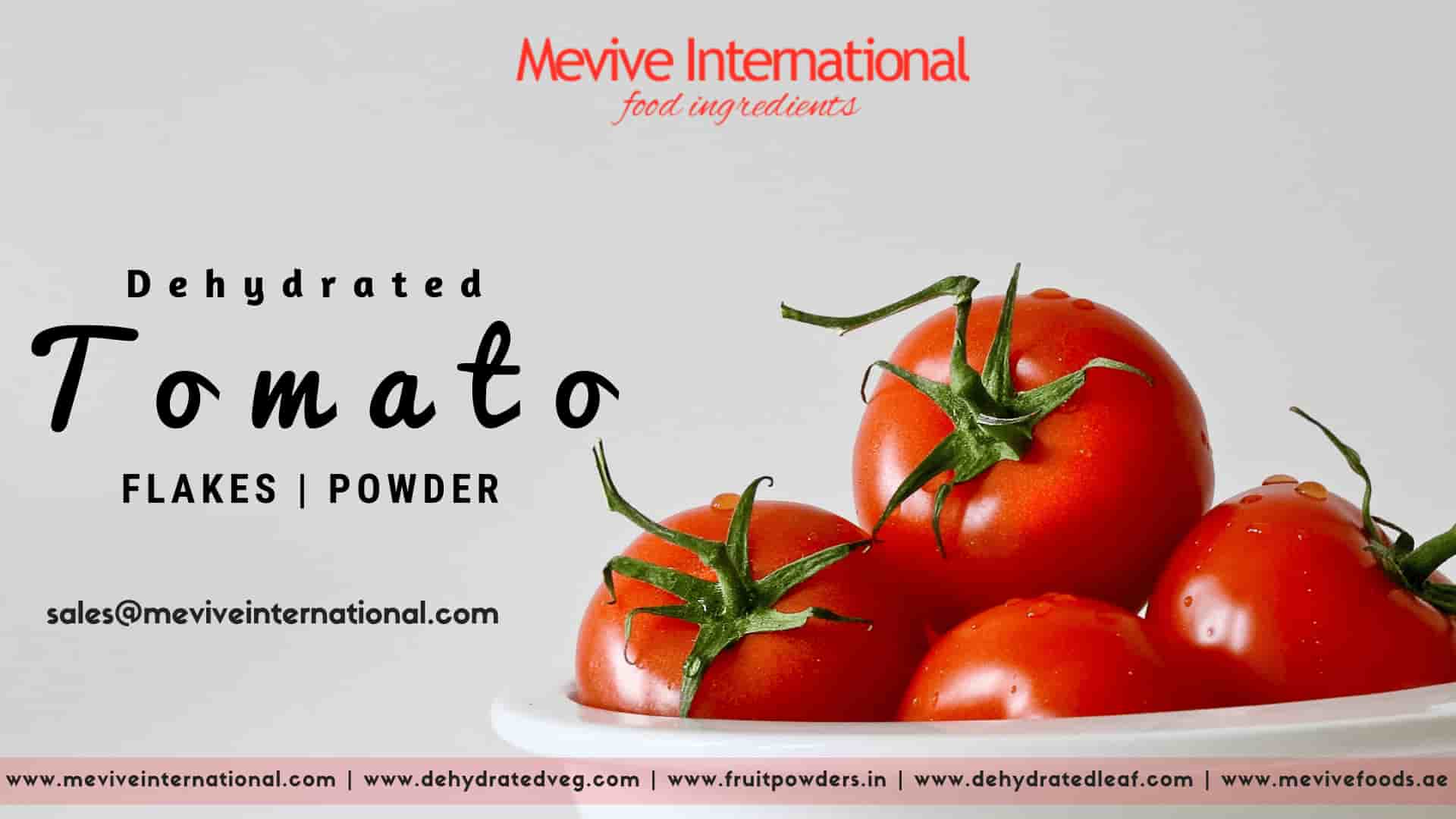 Sun dried tomatoes are prepared using ripe tomatoes that have spent a good deal of time basking in the blazing sunshine. Post this process, the tomatoes lose their moisture but maintain their nutritional value being still abundant in antioxidants and vitamin C.
Dried tomatoes pair well with olive oil, rosemary, basil, paprika and garlic. There are several sauces, gravies, sauces, pastes and purees made up of sundried tomatoes that taste great in casseroles, hummus, salads, sandwiches and desserts. Their distinct fragrances are loved especially in making breads, chilli, pasta, pizza, soups, stews, vegetable dishes and vinaigrettes. Tomato flakes are served with appetisers and also used in dips and marinades in pizzas, snacks and nibbles.
Health Benefit of Dried Tomato Flakes:
blood pressure
cholesterol
oxidative stress
Improve Bones Strength
Reduces Arthritis Pain
healthy vision
Preventing Kidney Stones
Reduces Stroke
stomach cancer
Controls Diabetes
Mevive International is one of best suppliers of dehydrated Tomato flakes and powder in india
We make available superior quality Dried Tomato that can be used as a substitute of fresh tomatoes in various recipes.
Dried Tomato Flakes is made using the sophisticated drying process in the most hygienic conditions. Our current dried tomato flakes are free from impurities and do not have any colorants or preservatives added to them.
Packaged by hand for optimum quality, care, and freshness, our Dried Tomato Flakes is acknowledged for its taste, quality and high nutritional value. We provide Dried Tomato Flakes in quality packing to preserve their richness in aroma that ensures its longer shelf life.
For More about our product Visit: www.dehydratedveg.com
If your want known price and sample means mail at sales@meviveinternational.com
List of our Tomato products
We are the best and 100% natural dehydrated tomato Flakes supplier in India
Dehydrated Tomato flakes
Dehydrated Tomato powder